March 22, 2023 - Vancouver, B.C., Granite Creek Copper Ltd. (TSX.V: GCX | OTCQB: GCXXF) ("Granite Creek" or the "Company") is pleased to announce it has entered into an agreement to acquire a 100% interest in the Lucky Ship molybdenum property ("LS Molybdenum Project" or the "Project") from two arms length vendors. Under the terms of the agreement the Company has the option to acquire a 100% interest in the Project by issuing 3,750,000 shares over a three-year period and completing exploration work equivalent to two years worth of assessment credit during the first two years of the agreement and four years worth of assessment credit in the third year of the agreement to maintain the mineral claims in good standing.
The LS Molybdenum Project is located within the traditional territory of the Wet'suwet'en First Nation in central British Columbia and is in a region with a long history of mining including the Endako molybdenum mine, Huckleberry copper-molybdenum mine, Equity silver mine and others (see Figure 1 map below). The Project is accessible year-round along a well-developed network of forestry roads, with a high-capacity powerline within 50 kilometers, and paved highway and rail line access within 85 kilometers.
Tim Johnson, President and CEO, stated, "The addition of the LS Molybdenum project to our portfolio of critical minerals fits our strategy of value creation in the critical minerals space in safe political jurisdictions, focused on projects that show district scale potential and are under-explored. The LS Molybdenum project is complementary to our flagship PEA-stage Carmacks copper-gold-silver project where we have expanded the resource by 43% since acquisition and recently delivered a robust PEA in January 2023, highlighting the potential at that high-grade copper-gold-silver project. While we remain focused on advancing and expanding Carmacks, we see an excellent opportunity for creating significant shareholder value with the LS Molybdenum project during a time with few advanced stage molybdenum projects in the global pipeline and recent molybdenum prices trading at multi-decade highs due to the scarcity of supply in the market."
Mr. Johnson, continued, "Molybdenum is an important critical mineral identified in the Canadian Critical Minerals Strategy used to strengthen steel and with a wide variety of other technical uses in the green economy for high strength - low weight applications such as wind turbines, electric vehicle components, and solar panels. These uses are expected to drive the demand for molybdenum in the coming decades with the International Energy Agency estimating there will be at least a 2.9X growth in the demand for molybdenum by 2040 in clean energy technologies to achieve their Sustainable Development Scenario (SDS)1. Having a resource stage molybdenum asset in North America with potential to significantly grow puts Granite Creek in an excellent position to identify potential industrial partners in search of secure future supplies of molybdenum."
1 . International Energy Agency website
About the LS Molybdenum Project
The LS Molybdenum project hosts a porphyry Mo deposit with a granite porphyry stock intruding a larger quartz-felspar porphyry stock in contact with older volcanic and sedimentary rocks. Mineralization occurs as a near-vertical ring of porphyry Mo style stockwork veining between 25 to 125 m in width around the margin of the interior granite porphyry stock. Mineralization remains open at depth with mineralization drilled to approximately 150 to 400 m in depth (see Figure 2 Cross section below). Porphyry Mo systems often have multiple porphyry centers and a number of additional targets remain to be tested.
The Project hosts a historical NI 43-101 molybdenum resource consisting of 65.66 million tonnes averaging 0.064% Mo containing 92.6 million pounds of Mo in the Indicated category with an additional 10.24 million tonnes averaging 0.054% Mo containing 12.2 million pounds Mo in the Inferred category. The Mineral Resource Estimate ("MRE") was completed by A.C.A. Howe Int. Ltd with an effective date of May 1, 2008 and an amended date of June 30, 2008 to National Instrument 43-101 standards and is believed to be reliable. The resource was estimated using the inverse distance weighting (IDW2) interpolation technique, the search orientations and ranges of which were calculated through variographic analysis and consideration of the geological domain model. The Inferred and Indicated mineral resources were reported at a cut-off grade of 0.030% Mo. The full technical report entitled Technical Report on The Lucky Ship Molybdenum Project Morice Lake Area, Omineca Mining Division, British Columbia for Nanika Resources Inc. will be available on the Company's website. It is currently available on SEDAR under the Goldbar Resource Incprofile (formerly Nanika Resources), filed July 2, 2008. The resource estimate was made public in a news release dated May 14, 2008 which is also available on SEDAR under the Goldbar profile.
The deposit was subject to a 2007 Preliminary Economic Assessment ("PEA") completed by A.C.A. Howe Int. Ltd. The comprehensive PEA report has references to metallurgical recoveries, mineralization style, deposit geometry, proposed processing options and project sizing amongst others. The report, entitled Preliminary Economic Assessment of the Lucky Ship Molybdenum Project Morice Lake Area, Ominica Mining Division British Columbia for New Cantech Ventures Inc. is available on SEDAR under the Goldbar Resources Inc profile (formerly Nanika Resources), filed June 19, 2007.
The company cautions that it is not treating the PEA or the MRE as current mineral resources or reserves and the Company has not competed sufficient work to confirm either the MRE or the PEA. Any mention of the PEA or MRE are for reference only and the reports should not be relied on as current. For the company to treat the MRE as current additional work including, but not limited to, resampling, drilling and the implementation of the company's own Quality Control and Quality Assurance ("QC/QA) program would need to be completed. The PEA would have to be updated in the context of current market conditions by an independent party to be considered current.
Figure 1. LS Molybdenum Project Location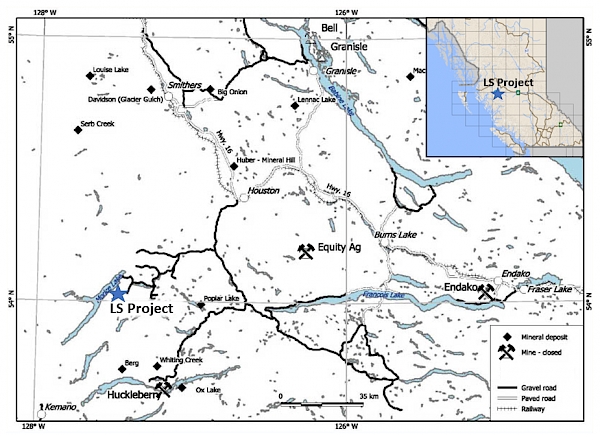 Figure 2 Geological Section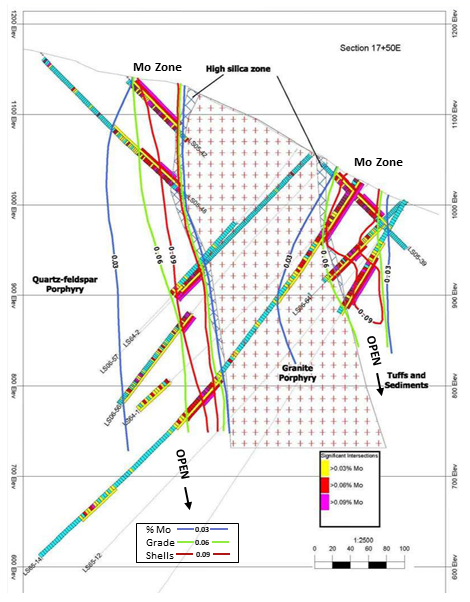 Carmacks Project Oxide Material Testing Underway
As described in the Carmacks PEA technical report, the Company has identified the potential to add significant additional cash flow to the Carmacks project through processing of oxide tailings to increase total copper recovery. Recovery sensitivity from the PEA shows a potential additional $180M pre-tax net present value ("NPV") based of a 20% increase in recovery rates, which could represent an approximate 55% increase to base case NPV. The work to test the leaching response from this oxide tailings material is currently underway, with results anticipated by mid-2023 with updates to follow.
Qualified Persons
Debbie James, P.Geo., an independent Qualified Person, in accordance with the guidelines of the Canadian Securities Administrators' National Instrument 43-101 – Standards of Disclosure for Mineral Projects has reviewed and approved the technical content of this news release. Ms. James has reviewed reports on the LS Molybdenum property, but has not made a site visit, and is relying on the work of prior qualified professionals.
About Granite Creek Copper
Granite Creek, a member of the Metallic Group of Companies, is a Canadian exploration company focused on the exploration and development of critical minerals projects in North America. The company's projects consist of its flagship 176 square kilometer Carmacks project in the Minto copper district of Canada's Yukon Territory on trend with the high-grade Minto copper-gold mine, operated by Minto Metals Corp., the advance staged LS Molybdenum project and the copper-nickel-PGM Star project both located in central British Columbia. More information about Granite Creek Copper can be viewed on the Company's website at www.gcxcopper.com.
FOR FURTHER INFORMATION PLEASE CONTACT:
Timothy Johnson, President & CEO
Telephone: 1 (604) 235-1982
Toll-Free: 1 (888) 361-3494
E-mail: info@gcxcopper.com
Website: www.gcxcopper.com
Metallic Group: www.metallicgroup.ca
Twitter: @yukoncopper
Forward-Looking Statements
This news release includes certain statements that may be deemed "forward-looking statements". All statements in this release, other than statements of historical facts including, without limitation, statements regarding potential mineralization, historic production, estimation of mineral resources, the realization of mineral resource estimates, interpretation of prior exploration and potential exploration results, the timing and success of exploration activities generally, the timing and results of future resource estimates, permitting time lines, metal prices and currency exchange rates, availability of capital, government regulation of exploration operations, environmental risks, reclamation, title, and future plans and objectives of the company are forward-looking statements that involve various risks and uncertainties. Although Granite Creek Copper believes the expectations expressed in such forward-looking statements are based on reasonable assumptions, such statements are not guarantees of future performance and actual results or developments may differ materially from those in the forward-looking statements. Forward-looking statements are based on a number of material factors and assumptions. Factors that could cause actual results to differ materially from those in forward-looking statements include failure to obtain necessary approvals, unsuccessful exploration results, changes in project parameters as plans continue to be refined, results of future resource estimates, future metal prices, availability of capital and financing on acceptable terms, general economic, market or business conditions, risks associated with regulatory changes, defects in title, availability of personnel, materials and equipment on a timely basis, accidents or equipment breakdowns, uninsured risks, delays in receiving government approvals, unanticipated environmental impacts on operations and costs to remedy same, and other exploration or other risks detailed herein and from time to time in the filings made by the companies with securities regulators. Readers are cautioned that mineral resources that are not mineral reserves do not have demonstrated economic viability. Mineral exploration and development of mines is an inherently risky business. Accordingly, the actual events may differ materially from those projected in the forward-looking statements. For more information on Granite Creek Copper and the risks and challenges of their businesses, investors should review their annual filings that are available at www.sedar.com.
Neither the TSX Venture Exchange nor its Regulation Services Provider (as that term is defined in the policies of the TSX Venture Exchange) accepts responsibility for the adequacy or accuracy of this release.