_____________________________________________________________________________________________________________
OVERVIEW:
The 100%-owned, 177-square-kilometer Carmacks property is on trend with the high-grade Minto Copper-Gold Mine to the north and its excellent access to infrastructure includes the paved Yukon Highway 2 within 40 km as well as grid power within 12 km.
Granite Creek has emerged as a significant new copper-focused exploration and development company with an updated NI 43-101 mineral resource estimate on its 177 square kilometre Carmacks project announced in March 2022 and Preliminary Economic Assessment announced in January 2023. The 2022 resource represented a major increase in tonnage and contained metal compared to the previous resource estimate, with over 8,200 metres of infill and expansion drilling in 25 holes completed by Granite Creek since its acquisition of Carmacks in 2020.
PEA Highlights*
Attractive project economics:

Base case metal prices of US$3.75/lb Cu, US$1,800/oz Au and US$22/oz Ag:

Pre-tax NPV5% of C$324 million and 36% IRR / After-tax NPV5% of C$230 million and 29% IRR

Case 1 metal prices of US$4.25/lb Cu, US$2,000/oz Au and US$25/oz Ag:

Pre-tax NPV5% of C$475 million and 48% IRR / After-tax NPV5% of C$330 million and 38% IRR

Mine life of nine years at 7,000 tonnes per day with clear exploration potential to extend mine life with four target areas within 1km of the current resource.
Capital cost of C$220m with payback of 2 years from commencement of production.
Head grade of 1.10% copper equivalent ("CuEq") consisting of 0.90% Cu, 0.30 g/t Au and 3.5 g/t Ag.
Average cash operating costs of US$1.76/lb CuEq and all-in sustaining costs of US$2.57/lb CuEq.
Option for tailings treatment: PEA study identifies additional potential cash flow through processing of oxide tailings to increase total copper recovery. Recovery sensitivity shows an additional $180M pre-tax NPV based of a 20% increase in recovery rates.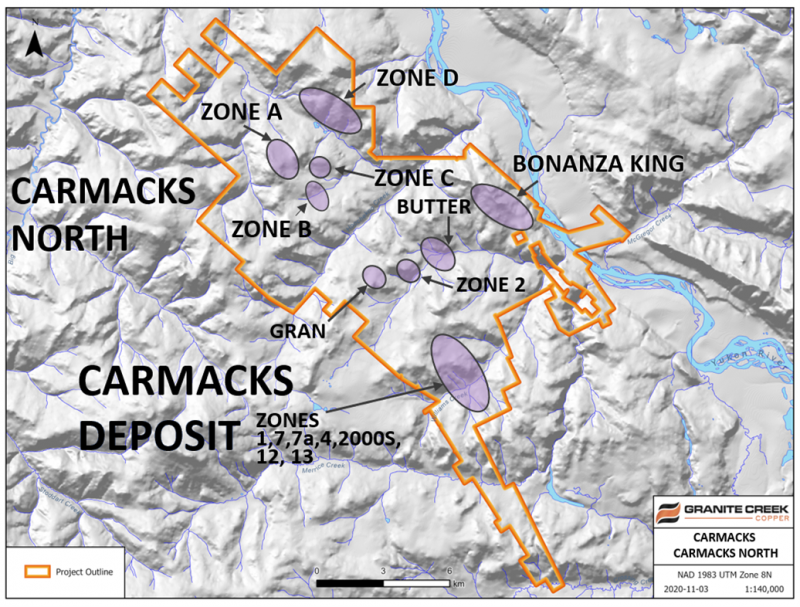 Opportunities
The third conceptual pit, 2000S as identified in the Mineral Resource Estimate ("MRE), could be brought into the mine plan if sufficient additional resources were defined by drilling to offset pre-stripping costs.
Electrification of the mining fleet. Significant cost saving and reduction in greenhouse gas production may be possible through the sourcing of electric vs. diesel haul trucks for the Project. The PEA envisions using a contract mining fleet for the Project and preference will be given to suppliers that can provide either fully electric or hybrid equipment.
Further discovery. Exploration conducted in 2022 consisting of geophysics, trenching and soil sampling identified four areas proximal to the proposed mine plan that if successfully drilled could enable longer mine life beyond nine years or provide additional sulphide mill feed earlier in the mine's life. Four targets on the Property require evaluation, all located within 1km of the current deposits. Two of the targets are located beneath the current resource and there is higher geological certainty that these may contain appreciable copper mineralization.

Zone 1213 shallow:

Downward continuation of Zone 12 and 13. Estimated dimensions are 360m long, 15 – 40m wide, starting at approximately 65m below the current drilling.

Zone 12 deep:

Downward continuation of Zone 12. Estimated from geophysics to be continuing for an additional 170m below current resource modelling. Approximated to be 580m long and 15-40m wide.

Gap Zone target:

Geophysical anomaly that fits with current geological understanding of the fault offset between 147 and 2000S Zone. Estimated to be 500m long, up to 400m deep, and 30-50m wide.

Sourtoe target:

Estimated from geophysics to be a lensoidal body of similar size to known deposits at 370m long x 370m deep with an estimated width of 15-50m. It has been lightly tested at surface by trenching and is weakly mineralized.
In addition, the Carmacks North target area is host to several mineralized zones that have the potential to add resources to the mine plan, all within 15 km of the proposed mill site.
Additional recovery through metallurgical improvements. The Company has retained Kemetco Laboratories to complete additional leaching and copper precipitating testing to evaluate the processing of tailings. The calculated grade of copper in tailings averages 0.32% with over 140 Mlbs of copper not recovered LOM. Recovery sensitivity show an additional $180M pretax NPV based of a 20% increase in recovery rates. Review of historical metallurgical testing has indicated that copper minerals present in oxidized material respond well to leaching. Once the copper is in solution the copper would be chemically precipitated to produce sulphide minerals that can be added back into the flotation cells.
Minto Copper Belt
The Minto Copper Belt is a 180-kilometer-long by 60-kilometer-wide belt of intrusion-related, high-grade Cu-Au-Ag deposits within the Dawson Range in the central Yukon Territory of Canada. The District is host to the formerly producing Minto Mine and Granite Creek's Carmacks Project. At Carmacks, copper mineralization is contained in foliated to gneissic material, generally similar to the Minto mine.

_____________________________________________________________________________________________________________
MILESTONES AND NEXT STEPS:
2020
Acquired previously unreleased data from airborne survey
Completed resampling program – Results pending
Completed inaugural drill program – results pending
Completed acquisition of Copper North Mining
2021
Released results from 2020 exploration program
Completed 20.8 line km IP survey
Completed three-phase drill program
2022
Rolling assay results from 2021 exploration program (Complete)
Updated 43-101 mineral resource estimate (Complete)
2023
New PEA announced (Complete January)
Additional oxide recoveries study (in progress)
Drill campaign (summer 2023)
*Base case metal prices based on 36-month trailing average from January 15, 2022. Recovery includes both oxide and sulphide ore and is based on mining 2/3 oxide and 1/3 sulphide LOM. Total operating costs include mining, processing, tailings, surface infrastructures, transport, and G&A costs. AISC includes cash operating costs, sustaining capital expenses to support the on-going operations, concentrate transport and treatment charges, royalties and closure and rehabilitation costs divided by copper equivalent pounds produced. AISC is a non-IFRS financial performance measures with no standardized definition under IFRS. The copper equivalent grade (CuEq) is determined by (total copper x US$3.75) + (total gold x US$1800) + (total silver x $22)/$3.75)/total resource tonnes.Payback period is from commencement of mining.
The Company cautions that the results of the preliminary economic assessment is preliminary in nature, that it includes inferred mineral resources that are considered too speculative geologically to have the economic considerations applied to them that would enable them to be categorized as mineral reserves, and there is no certainty that the preliminary economic assessment will be realized. Ms. Debbie James, P.Geo., a qualified person for the purposes of National Instrument 43-101, has reviewed and approved the technical disclosure contained herein.