_____________________________________________________________________________________________________________
OVERVIEW:
In November 2020, Granite Creek Copper completed its acquisition of Copper North Mining Corp, combining its Stu Cu-Au Project with the PEA-stage Carmacks Cu-Au-Ag project, thereby consolidating the southern half of the productive and highly prospective Minto Copper Belt in Canada's Yukon Territory. This 100%-owned, newly constituted, 176-square-kilometer Carmacks property is on trend with Minto Exploration's high-grade Minto Copper-Gold Mine to the north and its excellent access to infrastructure includes the paved Yukon Highway 2 within 60 km as well as grid power within 12 km.
Granite Creek has emerged as a significant new copper-focused exploration and development company with an existing NI 43-101 mineral resource estimate and exceptional expansion potential.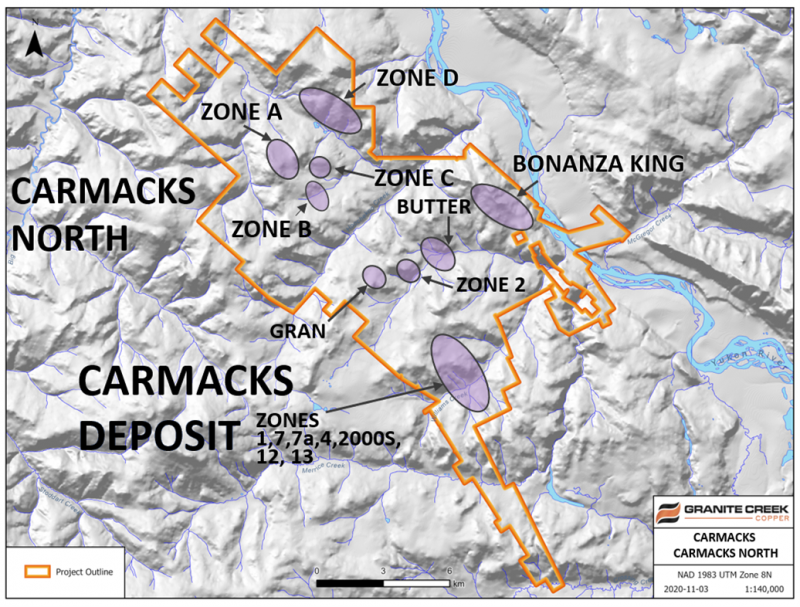 Highlights of the Transaction
• Consolidation of the second largest land position with a total of 176 sq km (17,580 hectares) in the Yukon's productive and highly prospective Minto Copper Belt;
• Combination of the PEA-stage Carmacks Project with 23.76 million tonnes (oxide and sulfide combined) grading 0.85% Cu, 0.31 g/t Au, 3.14 g/t Ag, containing (446 Mlbs Cu, 237,000 ozs Au and 2.4M ozs Ag) with the blue sky potential of the adjacent Stu Project with multiple kilometer-scale targets including 3,800 meters of historic drilling with several high grade intercepts of over 1% Cu[1];
• Ability to quickly expand existing resources on the combined land package, including mineralized zones that potentially overlap claim boundaries between the projects; and
• Synergies in the consolidated management and technical teams, strengthened by resources made available through the Metallic Group.
Granite Creek' technical team is actively developing plans to rapidly expand existing resources through drilling on high priority targets at Carmacks North as well as advancing the underlying sulfide potential at Carmacks proper.
Minto Copper Belt
The Minto Copper Belt is a 180-kilometer-long by 60-kilometer-wide belt of intrusion-related, high-grade Cu-Au-Ag deposits within the Dawson Range in the central Yukon Territory of Canada. The District is host to the operating Minto Mine and Granite Creek's Carmacks Project. At Carmacks, copper mineralization is contained in foliated to gneissic material, generally similar to the Minto mine.

_____________________________________________________________________________________________________________
PRIORITIES AND NEXT STEPS:
2020
Acquired previously unreleased data from airborne survey
Completed resampling program – Results pending
Completed inaugural drill program – results pending
Completed acquisition of Copper North Mining
2021 and UPCOMING
Released results from 2020 exploration program
Launched 2021 drill campaign early May
Rolling assay results from field programs